Penrose Pegasus

Another vintage glider from the Ghost Squadron workshops is the unusual one off design from Harold Penrose.

Harold Penrose was the famous Westland test pilot but when not testing aircraft for Westland had an interest in the emerging sport of gliding. He was convinced that a simple lightweight glider could compete with the big and expensive gliders being manufactured in Germany. He set about building the prototype at home in his upstairs bedroom. The requirement to get it down the stairs limited the longest piece to 11' 6" so it had a short fuselage and 3 piece wing.
The model is an exact 1/2 scale replica built following the original plans. All materials used are the same as the full size. The ply sheering is all scarf jointed as the full size and the fabric covering is stitched on exactly as per the full size. For a 1/2 scale model it is quite small and weighs in at 13kg making it a very practical model for general sport flying. It is also easy to launch and the Teams Ampley electric tug is more than capable of towing it effortlessly.
Model details

Span 5.1m

Weight 13kg

Radio Futaba 2.4ghz

First flight Jan 2013

Construction faithfully copied the full size using the same materials and where possible the same scale sizes.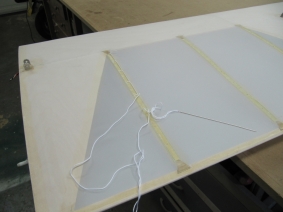 Exactly like the full size the covering was stitched onto the structure before doping.